General improvements:
Linux support. For more info regarding Linux-specific requirements visit the documentation.
New packing mode: Groups Independently – useful when you want to process many UVs in a batch. Read this page to learn more.
New parameter in the Pixel Margin subpanel: Extra Margin To Others – specifies an additional pixel margin between islands being packed and the other islands (unselected islands when using the Pack To Others mode). In result the final margin between these islands will be calculated using the formula: Pixel Margin + Extra Margin To Others. When using the Groups To Tiles mode and packing two groups into the same UV space, the islands from the other group are also treated as Others. It means that the Extra Margin To Others parameter will also be taken into account when calculating the margin between islands belonging to different groups.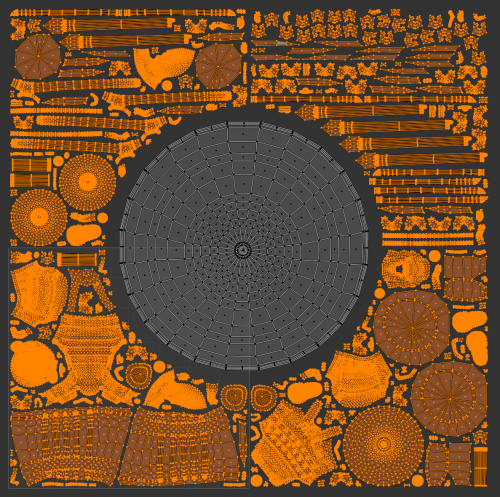 Reimplement the operation to select/deselect all islands in the active box:

New addon general option: Box Border Width – determines the width of box borders rendered in the UV editor during the operation.
New addon general option: Append Mode To Operator Name – this option should only be enabled temporarily, only for the time when you want to add an UVPackmaster operator to Quick Favorites. If you add an operator with this option enabled, the selected mode name will be permanently appended to the operator name in the Quick Favorites list. After the operator was added, you can disable this option immediately.
You will find the general addon options when you expand the engine status panel (the top-most panel):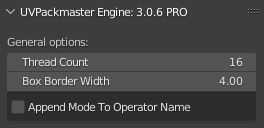 Minor user experience improvements.
Improvements for the Groups To Tiles mode: 
Ability to override selected global options for particular groups when using a grouping scheme (manual grouping):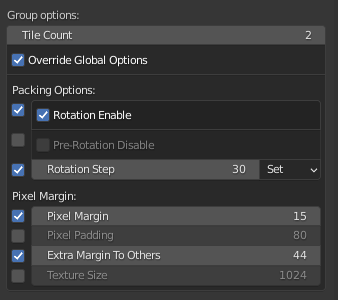 New automatic group layout modes:

AUTOMATIC (VERTICAL)

,

AUTOMATIC (HORIZONTAL). Visit this page for a visual presentation of the new modes.
New parameter Tile Count Per Group – specify tile count per group when using an automatic grouping method.
Bug fixing:
Fix for a bug when using Fixed Scale in the Groups To Tiles mode.
Fix for disabling particular packing devices in the addon preferences.
Other minor bugs fixed.
General improvements:
Mac support (Intel and Apple M1). For more info regarding Mac-specific requirements visit the documentation.
Significant performance optimizations for UV maps containing a huge number of UV faces (a few millions and more). Our benchmarks show that the new engine release can now pack a UV map containing 15 million faces in about 160 seconds. All users who are going to deal with heavy UV maps (e.g. for photogrammetry applications) should read this article in the documentation – it provides a bunch of additional useful tips.
New mode for aligning islands: Topology. This most-advanced mode takes into account not only vertex positions of two UV islands, but also how the vertices are connected (island topology). For more information on how the aligning tools were refactored in the new release read this article in the documentation.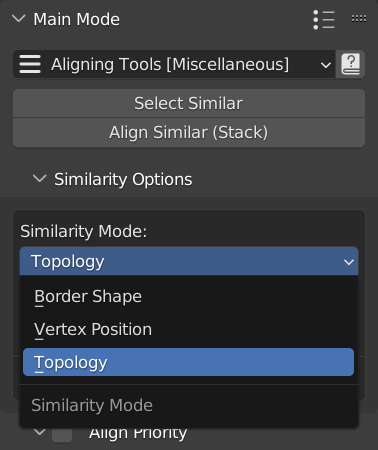 Support for Blender downloaded from the MS Store (on Windows).
New auxiliary operation for island grouping: Apply automatic grouping to a grouping scheme. Read this article to learn more about this functionality.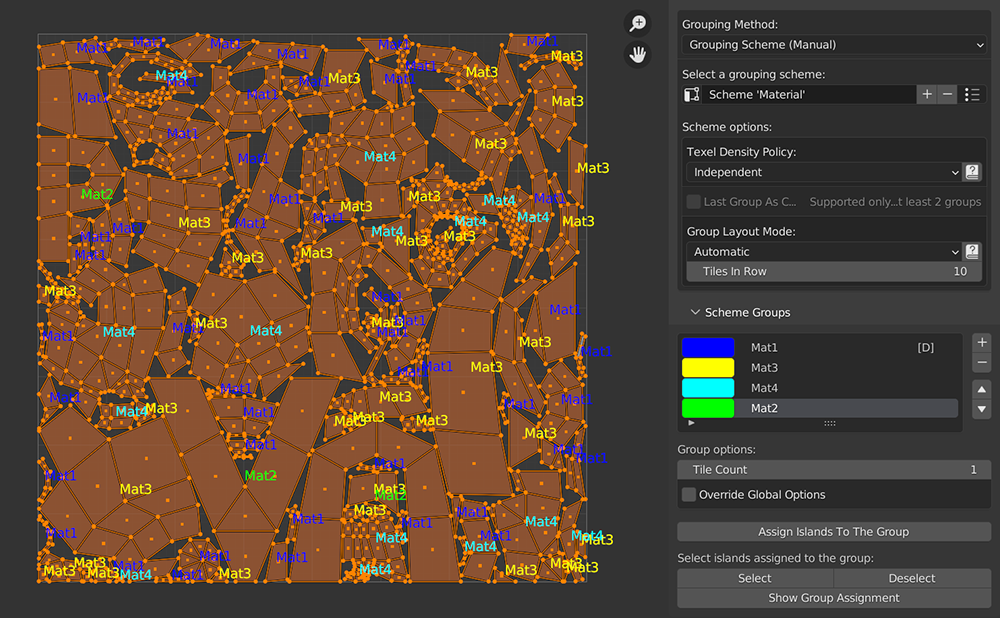 Bug fixing and minor improvements:
Fix for crashes when pixel margin parameters were set to larger values.

Increasing the Texture Size max value to 32K and the Pixel Margin and Pixel Padding max values to 256.

Fix for a packer hang when using an automatic grouping method together with the Pack To Others mode.

Fix for occasional packer crashes when using the Normalize Islands option together with GPU packing.

Other minor bug fixes.